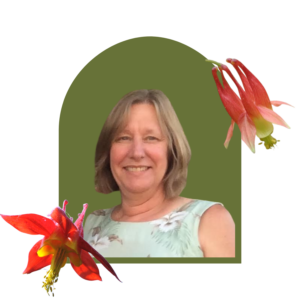 President – Rosemary Mix
Joined Wild Ones: January 2021
Location: Schoharie County
Favorite Native Plant: Wild Columbine (Aquilegia canadensis)
About: In her professional life Rosemary serves as a speech-language pathologist for individuals with a variety of complex communication disorders and mentors graduate-level student clinicians. She and her husband purchased 17 acres of land and built a home nearly 40 years ago. The interconnectedness of life became apparent when her husband started an organic Community Supported Agriculture (CSA) project and perennial flower business. Since turning the project over to friends on a nearby farm, she continued as a volunteer for both the CSA and their Family Farm 4H program. Rosemary initiated the Capital Region NY Wild Ones in May 2021 and, as chapter president, has focused her volunteer efforts on the many aspects of forming a regional chapter including collaboration with like-minded organizations, networking with other chapters, developing resources, and building a thriving Wild Ones community.
What inspired me to become involved with Wild Ones:
When our land was no longer being used for agriculture, we let the fields grow throughout the season to accommodate ground-nesting wildlife. The fields and rewilded areas have mowed paths for walking. I've been slowly forming a "picture" of how to maintain and develop our fields, woodlot, hedgerows, and rewild area using native plants. After getting involved with Wild Ones, I realized I can do so much more than just move my personal mission forward. I truly believe we can help to save our environment one yard/one project at a time! Capital Region NY invites you to join our growing network of diverse members and our efforts to network & educate, eradicate unwelcome invasive species, and incorporate native plants into our daily lives.
Vice President – Open Position
If you are interested in the direction and growth of our chapter but unsure how to assist then this is a great opportunity to find that path. The VP may have to fill in for the President if they are not available these activities could include but are not limited to, leading meetings, talking to the press at events, and in unlikely extreme cases sign contracts/documents. However, there are still plenty of opportunities to assist with special projects and utilize your unique skills.
Secretary – Jan Silverman-Pollow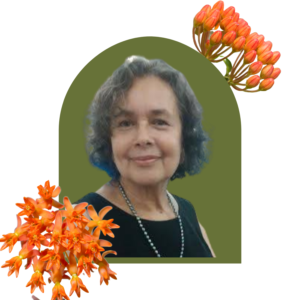 Joined Wild Ones: February 2021
Location: Albany County
Favorite Native Plant: Butterfly Weed (Asclepias tuberosa)
About: Jan joined the master gardener program through Cornell Cooperative Extension in 2012, after she retired from a career as a social worker having worked with children, adolescents, and families in both psychiatric and school settings. She has found gardening to be an educative and meditative experience and has enjoyed working with adolescents in a greenhouse setting to share this experience. She still gets excited watching seeds sprout and seeing perennials return to the garden. During the pandemic, she read Douglas W. Tallamy's Book, Natures Best Hope, and promoted his ideas by learning more about how to use native plants to encourage biodiversity in the landscape through the master gardener program and Wild Ones.
What inspired you to become involved with Wild Ones: Another master gardener had a photo of a Wild Ones sign that intrigued me and I researched the origin of the placard and discovered the Wild Ones organization. l felt it was in perfect tune with what we'd been reading about and wanting to promote in our community. I contacted the National Wild Ones group to learn about how to start a chapter in our region and was thrilled to find other like-minded souls excited about starting this project, as well.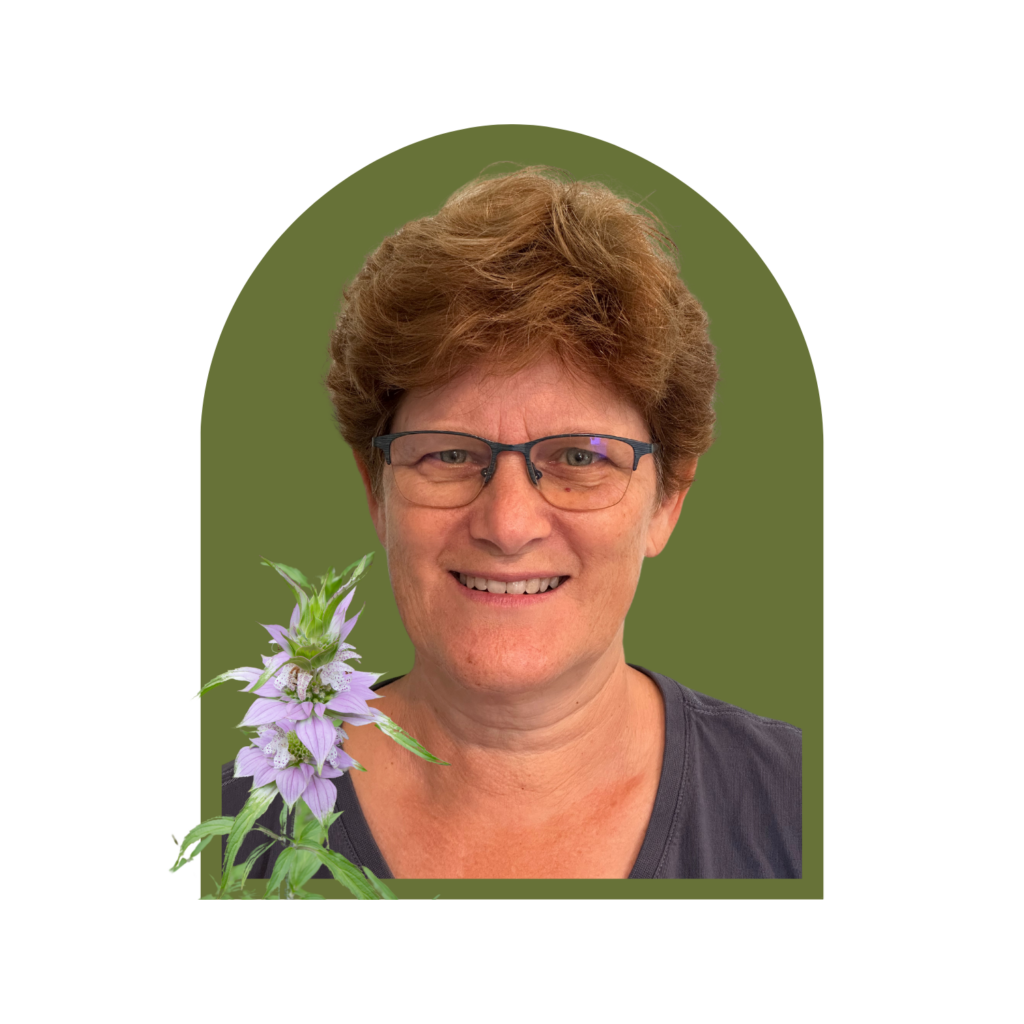 Treasurer – Tammy Krisher
Joined Wild Ones: January 2022
Location: Schenectady County
Favorite Native Plant: Spotted Beebalm (Monarda punctata)
About: Tammy has always loved to garden but had never really heard of Native plants until she read Doug Tallamy. It was like a light bulb went off over my head. With a love of birds, she has always gardened around their needs and stopped using pesticides. What she didn't realize was birds need to feed caterpillars to their young. It was amazing to see the life that existed around the native plants that she began to introduce into her garden in comparison to other non-native flowers.
Professionally Tammy is a Quickbooks Pro Advisor and she loves to help businesses and non
-profits with understanding their books. She has retired from her position as President of Pattersonville Telephone Company and that has allowed her to spend much more time outside in her evolving garden. With just a few changes she is already seeing more butterflies, caterpillars, moths, and Baby Birds!
What inspired you to become involved with Wild Ones: First, I loved the name! Second, I like the idea of meeting with like-minded people and learning and growing more. I've learned so much from this group, I'm especially excited about Winter Sowing of seeds. I had never heard of the concept until our November Seed Swap and I'm excited to see what I will have next Spring!
Co-Membership Chair – Open Seat
Currently, Kristi is filling in for this role and is willing to serve as a co-chair for 2024. If you enjoy building relationships with others this is a great fit for you. Our membership chair is typically the first person to reach out to new members and acts as a liaison for members to the officers. Attend Leadership meetings to give a brief report on membership growth and retention. Assemble and deliver welcome packet for members, currently, we are creating this packet. Other duties assigned by the board, as our chapter grows there might be more responsibilities needed. Please reach out if you are interested in this role.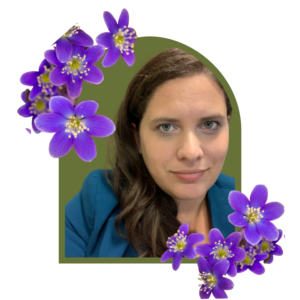 Development & Communications – Kristi Shepler
"Never doubt that a small group of thoughtful, committed citizens can change the world; indeed, it is the only thing that ever has." – Margaret Mead

Joined Wild Ones: January 2020
Location: Schenectady County
Favorite Native Plant: Sharp-lobed Hepatica (Hepatica acutiloba)
About: Kristi learned about gardening from a young age from her family, her first job was working at a school community garden. However, it wasn't until her photography of nature that she started to realize, not all of her learned gardening habits were the best for our local ecosystems. While she still finds joy behind the camera her attention has now been focused on bringing the wild home! Kristi has a wide range of experiences that include sales, marketing, graphic design, strategy, and leadership/management. Currently, she is excited to be working in the nonprofit sector in development and fundraising.   
What inspired you to become involved with Wild Ones:
When I moved back to my home town Toledo, Ohio I began volunteering at the award-winning Metroparks. There I learned about the globally rare Oak Openings Region and was introduced to many organizations, but Wild Ones really stood out. When my husband's career had us relocate it was time to put down roots yet again. Wild Ones being a national organization meant that no matter where our new home ended up there was a chapter waiting, or a chapter waiting to be formed!
Other Open Positions
Social Media Chair – We already have established social media channels we are just looking for someone to create Facebook Events, share informative posts, and respond to comments.
Newsletter Editor – Currently we use Mailchimp and templates have already been created. The Editor would be in charge of a deadline schedule in case any stakeholders want to add anything to the newsletter. Since templates are already made the editor just needs to input the new content and keep the subscribers list current.
Volunteer Coordinator – Will work to ensure we have members volunteer for upcoming events be it educational-based or community outreach events. Will need to build relationships with members to know their preferences including how much time they have to commit. Maybe asked to help with the nomination process and growing our leadership team.
Events Coordinator – Build partnerships with other local organizations to see if they have any upcoming events we could attend. Assist with chapter-planned and organized events such as the Native Plant Celebration, Volunteer Appreciation, and others as we grow. This may include securing locations and any technology needed such as setting up zoom meetings through our established accounts.
Leadership Meetings
Meetings are typically held on zoom please use the contact form if you would like to attend any of the 2023 Leadership Meetings:
Every month on the Second Tue
Jan 10, 2023 06:30 PM
Feb 14, 2023 06:30 PM
Mar 14, 2023 06:30 PM
Apr 11, 2023 06:30 PM
May 9, 2023 06:30 PM
Jun 13, 2023 06:30 PM
Jul 11, 2023 06:30 PM
Aug 8, 2023 06:30 PM
Sep 12, 2023 06:30 PM
Oct 10, 2023 06:30 PM
Nov 14, 2023 06:30 PM
Dec 12, 2023 06:30 PM
Topics typically include upcoming events, approval of finances, plant propagation and sales outlets, volunteer opportunities, and other typical leadership topics. If you would like to attend and see the upcoming agenda please use the following form.
Contact Leadership
Join Wild Ones as a member and start your journey to leadership, we are happy to grow the team! https://members.wildones.org/join/