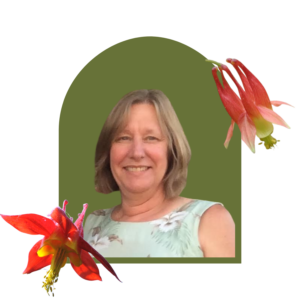 President – Rosemary Mix
Joined Wild Ones: January 2021
Location: Schoharie County
Favorite Native Plant: Wild Columbine (Aquilegia canadensis)
About: In her professional life Rosemary serves as a speech-language pathologist for individuals with a variety of complex communication disorders and mentors graduate-level student clinicians. She and her husband purchased 17 acres of land and built a home nearly 40 years ago.  The interconnectedness of life became apparent when her husband started an organic Community Supported Agriculture (CSA) project and perennial flower business.  Since turning the project over to friends on a nearby farm, she continued as a volunteer for both the CSA and their Family Farm 4H program. Rosemary initiated the Capital Region NY Wild Ones in May 2021 and, as chapter president, has focused her volunteer efforts on the many aspects of forming a regional chapter including collaboration with like-minded organizations, networking with other chapters, developing resources, and building a thriving Wild Ones community. 
What inspired me to become involved with Wild Ones:
When our land was no longer being used for agriculture, we let the fields grow throughout the season to accommodate ground-nesting wildlife.  The fields and rewilded areas have mowed paths for walking.  I've been slowly forming a "picture" of how to maintain and develop our fields, woodlot, hedgerows, and rewild area using native plants.  After getting involved with Wild Ones, I realized I can do so much more than just move my personal mission forward.  I truly believe we can help to save our environment one yard/one project at a time!  Capital Region NY invites you to join our growing network of diverse members and our efforts to network & educate, eradicate unwelcome invasive species, and incorporate native plants into our daily lives.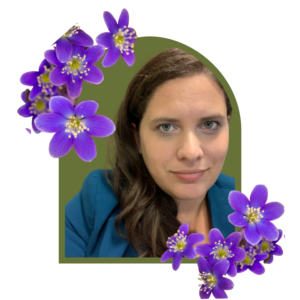 Vice President – Kristi Shepler
"Never doubt that a small group of thoughtful, committed citizens can change the world; indeed, it is the only thing that ever has." – Margaret Mead

Joined Wild Ones: January 2020
Location: Schenectady County
Favorite Native Plant: Sharp-lobed Hepatica (Hepatica acutiloba)
About: Kristi learned about gardening from a young age from her family, her first job was working at a school community garden. However, it wasn't until her photography of nature that she started to realize, not all of her learned gardening habits were the best for our local ecosystems. While she still finds joy behind the camera her attention has now been focused on bringing the wild home! Kristi has a wide range of experiences that include sales, marketing, graphic design, strategy, and leadership/management. Currently, she is excited to be working in the nonprofit sector in development and fundraising.
What inspired you to become involved with Wild Ones:
When I moved back to my home town Toledo, Ohio I began volunteering at the award-winning Metroparks. There I learned about the globally rare Oak Openings Region and was introduced to many organizations, but Wild Ones really stood out. When my husband's career had us relocate it was time to put down roots yet again. Wild Ones being a national organization meant that no matter where our new home ended up there was a chapter waiting, or a chapter waiting to be formed!
Secretary – Jan Silverman-Pollow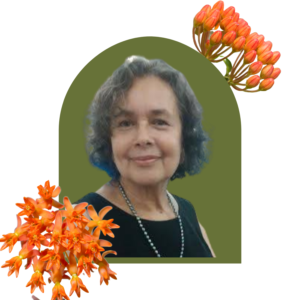 Joined Wild Ones: February 2021
Location: Albany County
Favorite Native Plant: Butterfly Weed (Asclepias tuberosa)
About: Jan joined the master gardener program through Cornell Cooperative Extension in 2012, after she retired from a career as a social worker having worked with children, adolescents, and families in both psychiatric and school settings. She has found gardening to be an educative and meditative experience and has enjoyed working with adolescents in a greenhouse setting to share this experience. She still gets excited watching seeds sprout and seeing perennials return to the garden. During the pandemic, she read Douglas W. Tallamy's Book, Natures Best Hope, and promoted his ideas by learning more about how to use native plants to encourage biodiversity in the landscape through the master gardener program and Wild Ones.
What inspired you to become involved with Wild Ones: Another master gardener had a photo of a Wild Ones sign that intrigued me and I researched the origin of the placard and discovered the Wild Ones organization. l felt it was in perfect tune with what we'd been reading about and wanting to promote in our community. I contacted the National Wild Ones group to learn about how to start a chapter in our region and was thrilled to find other like-minded souls excited about starting this project, as well.
Treasurer – Tammy Krisher
Joined Wild Ones: January 2022
Location: Schenectady County
Membership Chair – Martie Teumim
Joined Wild Ones: March 2021
Location: Albany County
Favorite Native Plant: Common Winterberry (Ilex verticillata)
About: Martha (Martie) Teumim has been an Albany County Master Gardener through Albany County Cooperative Extension in Voorheesville for more than 20 years. She gives talks on topics ranging from "Gardening in a Changing Climate" to "Monet: Artist and Gardener" to "Harvesting, Saving, and Starting Seeds". Martie is a retired high school English teacher and software trainer, who has two grown daughters and two grandchildren. She lives in Delmar New York with her husband and two cats.
What inspired you to become involved with Wild Ones: I read Doug Tallamy's books "Bringing Nature Home", "Nature's Best Hope", and "The Nature of Oaks". Which made me realize how very important native plants are to the environment.
Contact Leadership
Join Wild Ones as a member and start your journey to leadership, we are happy to grow the team! https://members.wildones.org/join/